Jaguar vs. Leopard: Jaguar XE Versus The Big Cat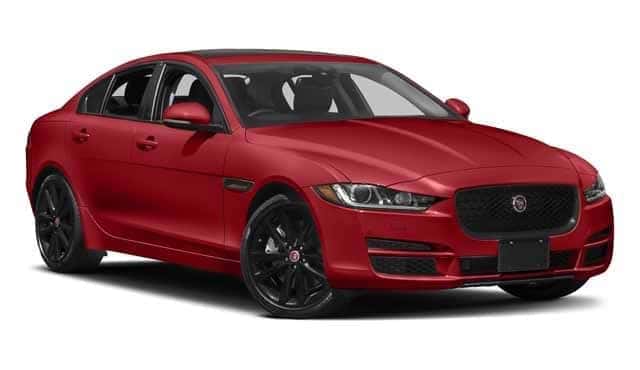 Shopping for a Jaguar XE or leopard for your I-10 cruise? Look no further than the Jaguar XE. The Jaguar XE outperforms the leopard in these key commuter areas:
Top speed

Jaguar XE = 120 MPH
Leopard = 36 MPH

Comfort

Jaguar XE = Seats five
Leopard = Seats one with a saddle

Safety

Jaguar XE = AWD, Torque Vectoring, and Adaptive Surface Response
Leopard = Protection against predators, but no seatbelts

Efficiency

Jaguar XE = 28 combined MPG
Leopard = No gas. Fueled by gazelles, impalas, and deer – you're better off finding a gas station.
Speed
When trying to get to work in Manhattan Beach, or simply enjoying a leisurely drive to your favorite sushi spot, you want to make sure your ride can go fast. The Jaguar XE provides drivers a top speed of 120 MPH with its 2.0L 247 HP turbocharged 4-cylinder engine. A leopard, on the other hand, can only go 36 MPH. The leopard doesn't even have an engine.
Comfort
When thinking about getting a new ride, comfort is a crucial concern to Venice drivers. With a Jaguar, you get five leather seats, Jaguar InControl® technology, and more. Plus, you can seat passengers in your travels. With a leopard – if you are able to throw a saddle on it – you can take one person somewhere slowly. It's clear: the Jaguar XE is the winner.
Safety
The Jaguar XE provides walls, doors, airbags, seatbelts, headlights, at the most basic level. The leopard is a wild animal; you won't even get seatbelts. The Jaguar XE provides premium safety features. The leopard? No way.
Efficiency
The leopard's lack of engine, no doubt, calls its efficiency into question. The Jaguar XE, however, gets a solid 28 combined MPG. The Leopard needs fuel from gazelles, impalas, or deer, all of which can be hard to spot – or fairly expensive – in busy Santa Monica.
Look No Further than the Jaguar XE
The Jaguar XE is a good choice when considering your next luxury car. It not only beats out the leopard, but the Lexus IS, as well. Explore more Jaguar trivia, and then get your Jaguar XE at Hornburg Jaguar Santa Monica today!
Latest News from Hornburg Jaguar Santa Monica
Are you shopping for an electric car in the Malibu or Pacific Palisades area? It's important to know the ins and outs of electric vehicle charging options and charging times in order to make sure you are making the right decision for your needs. There is a variety of charging plugs and ports, with a selection…

How much can the Jaguar F-PACE tow? The 2019 Jaguar F-PACE has a maximum towing capacity of 5,290 pounds. Learn more about towing performance and features Hornburg Jaguar Santa Monica, your local authorized Jaguar retailer, then find out how you can purchase or lease the F-PACE near Pacific Palisades! Learn More View Inventory Jaguar F-PACE Towing: Engine Options You…

With great year-round weather, there are plenty of outdoor activities you can engage in when in the Malibu area. And if you like to explore while getting a workout, enjoying some of the best hikes in Malibu would be a great way to spend a day. From canyons to waterfalls and more, check out this…
Hornburg Jaguar Santa Monica Reviews
Alex was very helpful and friendly. always available. Thanks very much for making the process painless! =)
Excellent. I love my car , I received very good srevice from my dealer in Santa Monica . This is my second car from them and not the last one.
Overly pleased with their customer service. Everyone was polite and well informed about everything. They made our buying process smooth. I highly recommend this dealer.
Hornburg Santa Monica is the BEST! Especially, my salesperson Alexander and David in finance. Very helpful and made the purchase very smooth. Highly recommend.
Lease return and service during my lease was amazing. Made the whole process super painless!
I highly recommend anybody shopping for a new Jag/ Range Rover/ Discovery to go to the Hornburg dealership in Santa Monica. Don't be put off by the temporary construction of their showroom, they are still the best Hornburg location in LA! Boris was fantastic and helped me find the Velar with the EXACT specs I wanted, let me test drive again, then even offered to deliver the car to my home as I had driven to the dealership in my other car. I always find car shopping kind of stressful but this was such an easy and pleasant experience. Everybody I met working at Hornburg SM was friendly and helpful from the front desk, financing and sales... especially compared to my experiences with the team from the Sunset Hornburg location which was horrendous (I left them a review too!). When Boris delivered my new car to me shortly after it was washed, he then spent time helping me download the InControl app, set up my navigation, set my garage clicker, sync my phones, click in the little extras like bag hook/ coat hangar etc. super helpful and I really appreciated that he helped me like this AFTER the sale, when he technically didn't need to. Thank you Boris for helping me get my beautiful new Range Rover Velar... I love it!
I cannot speak highly enough of the service I have consistently received from Vladimir Pejcic over the past 3 years, and more recently, Zvi Aviad. This is my second lease through Hornburg SM and the level of commitment, dedication and patience they have shown to keeping me happy as a customer has been outstanding on all levels. Yes the showroom is currently under construction, and yes, the whole team are exceptionally busy, however those are just incidentals, in the larger scheme of things, excellent customer service will trump those minor issues every time. The porters, valet, reception and finance - all superb. Excellent experience from beginning to end.
Friendly and knowledgeable people. Also great options for exterior and interior colors in the cars. I am a returning customer and will come back again.
Nesh and Steilan were amazing! They made the process so easy and pleasant. I was looking to lease a Range Rover (either the sport or the Velar)  and they answered all my questions and took the time to help me make my decision. They are very knowledgeable and I couldn't be happier with my car! 🙂