Jaguar vs. Leopard: Jaguar XE Versus The Big Cat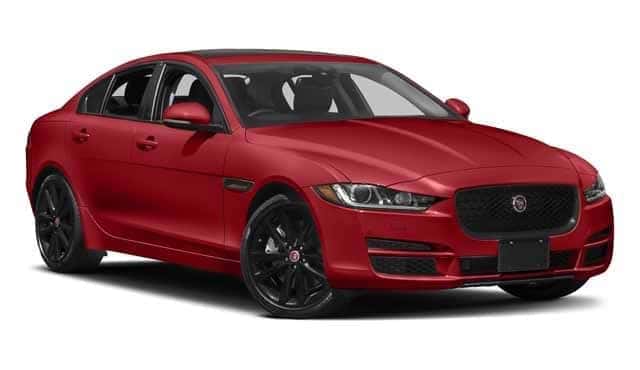 Shopping for a Jaguar XE or leopard for your I-10 cruise? Look no further than the Jaguar XE. The Jaguar XE outperforms the leopard in these key commuter areas:
Top speed

Jaguar XE = 120 MPH
Leopard = 36 MPH

Comfort

Jaguar XE = Seats five
Leopard = Seats one with a saddle

Safety

Jaguar XE = AWD, Torque Vectoring, and Adaptive Surface Response
Leopard = Protection against predators, but no seatbelts

Efficiency

Jaguar XE = 28 combined MPG
Leopard = No gas. Fueled by gazelles, impalas, and deer – you're better off finding a gas station.
Speed
When trying to get to work in Manhattan Beach, or simply enjoying a leisurely drive to your favorite sushi spot, you want to make sure your ride can go fast. The Jaguar XE provides drivers a top speed of 120 MPH with its 2.0L 247 HP turbocharged 4-cylinder engine. A leopard, on the other hand, can only go 36 MPH. The leopard doesn't even have an engine.
Comfort
When thinking about getting a new ride, comfort is a crucial concern to Venice drivers. With a Jaguar, you get five leather seats, Jaguar InControl® technology, and more. Plus, you can seat passengers in your travels. With a leopard – if you are able to throw a saddle on it – you can take one person somewhere slowly. It's clear: the Jaguar XE is the winner.
Safety
The Jaguar XE provides walls, doors, airbags, seatbelts, headlights, at the most basic level. The leopard is a wild animal; you won't even get seatbelts. The Jaguar XE provides premium safety features. The leopard? No way.
Efficiency
The leopard's lack of engine, no doubt, calls its efficiency into question. The Jaguar XE, however, gets a solid 28 combined MPG. The Leopard needs fuel from gazelles, impalas, or deer, all of which can be hard to spot – or fairly expensive – in busy Santa Monica.
Look No Further than the Jaguar XE
The Jaguar XE is a good choice when considering your next luxury car. It not only beats out the leopard, but the Lexus IS, as well. Explore more Jaguar trivia, and then get your Jaguar XE at Hornburg Jaguar Santa Monica today!
Latest News from Hornburg Jaguar Santa Monica
The entry-level 2019 Jaguar XE sedan has a starting price of $36,995 MSRP. Drivers in Malibu considering this model will be able to choose from eight different trim levels, which means you won't have to compromise on the features and optional equipment you want in your luxury sedan. With rear-wheel drive and all-wheel drive options, plenty of…

Looking for the best Santa Monica fireworks this Fourth of July? Whether you live in town or you want to plan a trip from Brentwood or Pacific Palisades, check out our recommendations for some of the best places to see fireworks shows on Independence Day and begin planning your night! Contact Us Santa Monica College Fireworks…

Are you shopping for an electric car in the Malibu or Pacific Palisades area? It's important to know the ins and outs of electric vehicle charging options and charging times in order to make sure you are making the right decision for your needs. There is a variety of charging plugs and ports, with a selection…
Hornburg Jaguar Santa Monica Reviews
nice people. Def recommend.
Excellent experience and very happy with my new car. I've purchased and leased several cars from this dealership and Vladimir and Michael are wonderful to work with and make the process smooth. Everyone is pleasant to work with from financing to the sales team. This is why I am a returning customer for over 10 years. Thank you Santa Monica Team!!
Came to this dealership to inquire about leasing a Range. My best friend leased her first Jaguar recently and she had an amazing experience with the sales team. I was lucky to be helped by the lead sales manager Vladimir, since it was a super busy day and all salesmen were working with other customers. He was more than helpful, extremely knowledgeable and professional. We  were able to find me the best possible leasing option for my budget and needs and I walked out with my first Range. Aleks was also phenomenal, he helped with some details and together they made this process enjoyable and fast. Highly highly recommended.
Excellent dealership Under construction but there customer service is top notch I've never been on and out of the dealer so quickly and hassle free . Did an online purchase inquiry Vladimir assisted me  over the  phone . He made as He made additional discount on already an amusing price on one of their vehicles . Kenny welcomes me as I arrived and took me out on a test drive surfing rush hour . Max sat down with me on the finance . Wu and easy , explain the options . Great experience at this dealer Was an absolute pleasure .
Just leased an F type from Hornburg. Aleks and Vlad were great explained differences between models and made it east for me to decide. Got a great deal. Tony in finance was amazing also. Great job guys and thank you!
Giving a 5 star review, easy! Just leased Jaguar F type and must say I was very pleased with people working there. I've got all information possible about the car performances and the lease agreement in a short time. Especially I would recommend Alex, he was very helpful and professional in doing his job. At the end I've got a great deal. Great job guys and thanks!!
Pace and was out of the door within 2 1/2 hours. Within that time I had an opportunity to test drive the vehicle, review features, and sign my paperwork.   The following day I returned for my beautiful new truck (by choice), which had been cleaned and polished to the core. I also had an in-depth one on one, ensuring that I was confident in operating everything as I left the lot. Kenny, thank you for an extraordinary shopping experience! Many Blessings!